Heating Repair / Installion Experts Montgomery County MD
Davis & Davis offers heating service, repairs and new installations to most parts of Montgomery County MD including: Chevy Chase Maryland, Ashton, Aspen Hill, Bethesda, Brookeville, Burtonsville MD, Kensington Maryland, Leisure World, Montgomery Village, Potomac MD, Rockville, Wheaton Maryland, Silver Spring, Takoma Park MD and Olney MD. If you are looking for Heating Repair Estimate, Mainteanance / Service Contract or New Furnace / Heat Pump Installation estimate or quote make sure to call or email us today.

Whether you're remodeling, building a new home, upgrading or replacing your existing heating system, you can depend on us for reliable and efficient heating solutions that will last for years to come. We specialize in high-efficiency heating systems that provide total comfort throughout your home. Our knowledgeable and friendly staff will help you select the right system for your home and no matter what choice you make, you can rest easy that it's a choice we will stand behind. All of our heating systems are backed by excellent manufacturer's warranties with extended warranties also available. Ask us today about how replacing or upgrading to a higher efficiency heating system can not only increase you and your family's comfort but also significantly cut your home heating bills.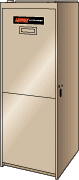 Indoor Air Quality Accessories
If you're considering upgrading or replacing your cooling system, now is a good time to increase the overall comfort of your home with quality, whole-home indoor air comfort products. From central humidifiers that provide the perfect amount of humidity to your entire home to whole-home air cleaners, attractive and technologically advanced thermostats and zone control systems, adding indoor air comfort accessories can not only improve the quality of your air but save you money on your utility bills.
Ask us how an indoor air quality accessory can be fitted to your central heating and cooling system today.

Dear Berk,
We want to compliment Ivan, who did such a good thorough job in diagnosing and repairing our furnace(s) problem over the past two days. Ivan also has shown his competence on a few previous occasions. Other of your technicians are very good also, but Ivan is outstanding. Please share this note with him.
--Gunter & Linda Koenig Chevy Chase Md


Thank you again for having provided an immediate response to my heating problems yesterday. Dennis was very helpful and professional.
Until the next time!
Best,
--Stefan Alber-Glanstaetten Bethesda Md

Davis & Davis offers heat pump repair & new installation service throughout Potomac, Chevy Chase, Bethesda, Kensington, Silver Spring, Wheaton, Rockville, Gaithersburg, Takoma Park, Olney, Burtonsville, Leisure World, Montgomery Village, Aspen Hill, Brookeville, Ashton, Sandy Spring, Colesville, Calverton, Glenmont, Travilah, Darnestown, Redland, Laytonsville, Laurel, College Park, Adelphi, Beltsville, Greenbelt, Hyattsville, Langley Park, and Lanham.